A View from the Bridge is a fictional audio drama performance. It is written by Arthur Miller. He was an American playwright, screenwriter, and essayist. He was an influential figure in the American theater scene of the 20th century. If we talk about the most popular plays of Arthur Miller then you will find Death of a Salesman right there among the top plays of the author. On top of that, you can find a grand collection of his best works in audio in The Arthur Miller Collection.
The performance of A View from the Bridge title is done by a full cast of characters. The names of the main performers are Mary McDonnell, Amy Pietz, Harry Hamlin, and Ed O'Neill. This particular version of the play is a recording of a live performance in front of a hall full of an audience. So, you will hear the audience as well clapping and laughing in many places. This performance overall has been quite spectacular.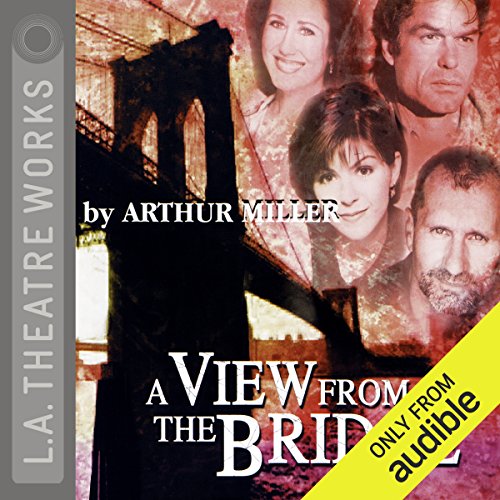 The story of this play is quite interesting. It is more about the Italian-American immigrant life, especially in the texture of the 1950s. This searing and intense drama is of revenge and love. The main character of the story is Longshoreman Eddie Carbone. He was fully devoted to Beatrice, his wife. The other most considerable person in his life was Catherine, his niece. At the time when the impoverished Sicilian cousins of Beatrice entered the USA illegally with the hope of finding work and better life, Eddie was the one giving them a helping hand. But the time when Catherine and one of her cousins fell in love then affection of Eddie for Catherine turned into an obsession.
Full Audiobook