All the Light We Cannot See is a historical war novel based in occupied France during World War ll. It centers on a blind French girl and a German boy whose paths are bound to meet. It has been authored by Anthony Doerr and won the 2015 Pulitzer Prize for Fiction along with the 2015 Andrew Carnegie Medal for Excellence in Fiction. It spent 130 consecutive weeks on The New York Times Best Seller List in the category of hardcover fiction. Furthermore, it was named as one of its 10 best books by the New York Times.  You don't want to miss out on another novel from the author titled About Grace and a short story collection titled The Shell Collector.
The narration has been done by Zach Appelman. You will find this a very enjoyable narration as his voice only enhances the already amazing story.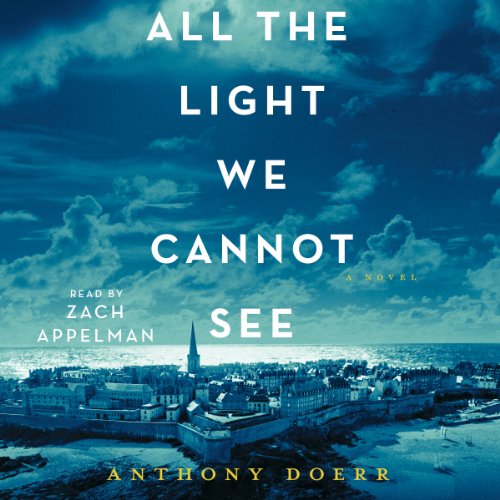 Marie Laure lives near the Museum of Natural History where her father works, in Paris. When the Nazis occupy Paris, the family flees to their great uncle who lives in a tall house by the sea, in the walled citadel of Saint-Malo. They take with them the most expensive but dangerous jewel of the museum. In another part of the world, in a mining town in Germany, Werner Pfennig grows up with his sister as an orphan. They are enchanted by a radio that brings them news from faraway places. Werner becomes an expert in fixing these instruments and thus he is enlisted to track down the resistance. Doerr depicts these two individuals, perfectly weaving their lives together as he displays the human instinct to be compassionate with each other under any circumstances.
Full Audiobook