Cloud Atlas is a science fiction, fantasy fiction, science fantasy, and drama novel authored by David Mitchell. It is a mind-bending piece of literature that erases all boundaries of language, time, and genre and offers a meditation on humanity's dangerous desire for power, and where it leads us. It was shortlisted for the Booker Prize, Arthur C. Clarke Award, and the Nebula Award for Best Novel. It won the Richard & July Book of the Year Award along with the British Book Awards Literary Fiction.
David is an English novelist who has also written number9dream, a novel shortlisted for the Booker Prize. He was regarded as one of Granta's Best of Young British Novelists in 2003. Time also selected him as one of the 100 Most Influential People in the World. Ghostwritten was the first novel by him. It won the John Llewellyn Rhys Prize and was shortlisted for the Guardian First Book Award.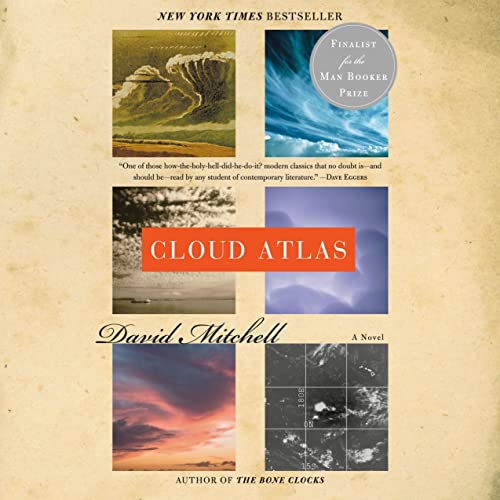 This audiobook was nominated for the 2005 Audie Award Literary Fiction in 2005. It is performed by Scott Brick, Cassandra Campbell, and 4 others. As the narrators get their separate tale, they add their touch to the audiobook differently. It is a spectacular experience for the audience.
This is the story of a reluctant voyager crossing the Pacific in the 1850s. It is also about a disinherited composer living dangerously in war-torn Belgium. We also meet a high-minded journalist in California. Then there's a vanity publisher fleeing his creditors. A genetically modified dinery-server also makes the cut. Finally, we have the sixth: Zachary, an Islander witnessing the downfall of science and civilization.
Be prepared for sudden shifts in the storyline as it is by the design of the author. He has knitted together a political thriller, science fiction, and historical pastiche all into one book.
Full Audiobook