Death World is a space opera and science fiction novel authored by B. V. Larson. It is the 5th book of the Undying Mercenaries series. If you're interested in more from the author, check out Dark World. You should also read War of the Spheres.
Mark Boyett is the narrator of this audiobook. He has given wonderful voices to the characters. The novel is more enjoyable because of his interpretation. He brings the characters to life and distinguishes between them. Thus, it is easy to keep along as he reads.
The Galactics arrived in 2052 with their Battle Fleet. Earth joined a vast empire that spanned the Milky Way rather than being exterminated under a barrage of hell-burners. Our only worthwhile export was our infamous mercenary legion. These are elite troops to be sold to the highest alien bidder.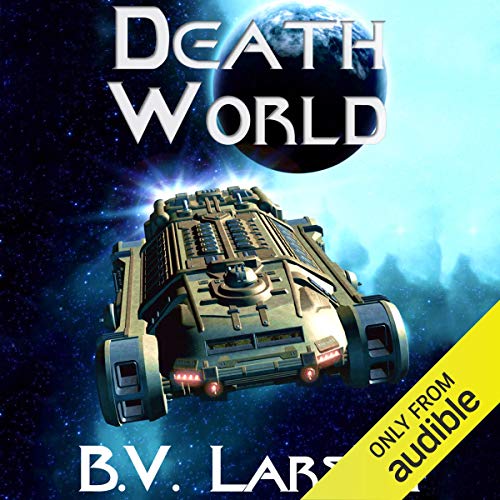 James McGill has his new challenges in this book. As the war comes to Earth, they are struck with a devastating and fatal blow. Legion Varus chases raiders to the stars, bent on revenge. He discovers an alien menace growing in their home territory. It is a cancerous species of invaders plaguing the region of the galaxy and has to be dealt with.
McGill also learns why the Cephalopod Kingdom has yet to attack Earth. Many things are happening behind the scenes in the Core Worlds. McGill has to get to the bottom of it all before it is too late.
If you're a space lover and fond of alien stories, this can be the book for you. There are aliens, soldiers, and slippery bad guys who work a way around the rules. This dystopian universe features intergalactic space battles that can't be experienced anywhere else.
Full Audiobook