East of Eden is a fictional novel that earned the repute of an English literature classic. It is a novel written by John Steinbeck. He is also a winner of the Nobel Prize of 1962 in Literature. He is still known in the literature world for his imaginative skills and realistic writing. He combines them well to produce something unique and amusing for the audience. The Grapes of Wrath is a novel that did quite well for the author. Travels with Charley in Search of America is another best one from John.
Richard Poe has narrated East of Eden in his awe-inspiring style. He was at the top of his game in depicting the right emotion that this novel required. It made an exciting experience for the listener to feel the characters in this novel.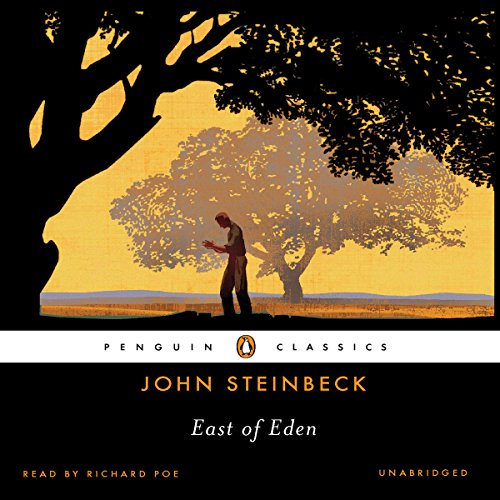 East of Eden is a sprawling and sometimes a highly brutal novel. It is set in the beautiful farmlands of the Salinas Valley in California. You will be gripped by the tale that depicts the destinies of two distinct families that get intertwined. The two families are the Hamiltons and the Trasks. The generations of both these families powerlessly reenacted the fall of both Adam and Eve. It discusses the poisonous and weird rivalry between Abel and Cain.
East of Eden is a tempting novel that will push you more and more inside its plot. It is a beautifully crafted biblical story that revolves around the lives of Abel and Cain. The performance by Richard is amazing and that will make the whole experience of this powerfully written novel to another level of entertainment. The book is highly recommended.
Full Audiobook