Ray Bradbury starts talking about a world which does not exist in reality but it seems to be real. This is the strange world where books are completely band and the people are not allowed to keep them or read them. Whoever is found guilty of the crime is punished heavily after which the books along with the house is burnt by the fireman. Guy Montag happens to be a fireman which means that he is not extinguishing the fire rather he is the one who is setting the printed material on fire every day.
The world in which Guy lives is dependent on television and the people don't believe on anything else. It is the television which rules the states and the houses as well. Guy's wife Mildred is without emotions as she too believes in the world which she sees through television. When the story begins, the couple seems to have a robotic or dull life.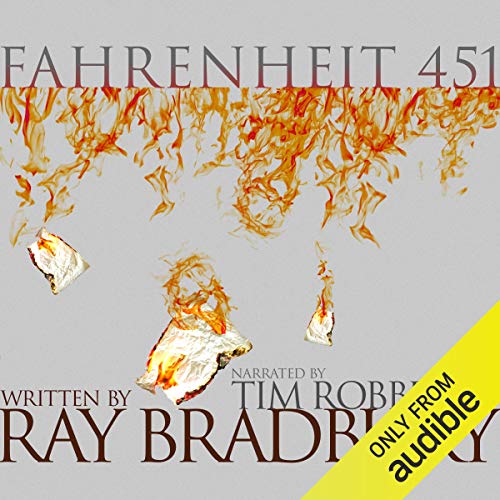 Then guy gets the chance to meet his new neighbour named Clarisse who has a different opinion about life. Clarisse shows Guy how to love books just like the people of the past who were closer to literature. Guy gets impressed by this new thought and he too starts collecting books. Suddenly the calamity falls on the man when Clarisse disappears and Mildred tries to commit suicide.
The government also finds out that Guy was hiding books so the fireman starts running for his life. The story is amazing and it is equally well narrated by Tim Robbins. If one delves deeper into Ray Bradbury's world then he will surely find jewels like Dandelion Wine and The Martian Chronicles that he would love to keep. These books give an opportunity to think in another direction for a while as we are taken away from reality.
Full Audiobook