Protect and Defend is a thriller and political fiction written by Vince Flynn. It is the 10th book of the Mitch Rapp series. This book is followed by Extreme Measures. Furthermore, it is preceded by Act of Treason. Flynn returns with his action-packed and NYT bestselling series with the hero we love so far navigating the minefield of international intrigue.
The narrator George Guidall always does a great job with the series and as Rapp. Even though, this time, he might have outdone himself. There is hardly anything left to complain about in this one.
The action begins in the heart of Iran, where billions and billions of dollars are being funneled to develop the nuclear program. Israel, unable to wait any longer, launches one of the most creative espionage attacks ever. It leaves a radioactive tomb and an environmental disaster in the middle of Iran's second most important city.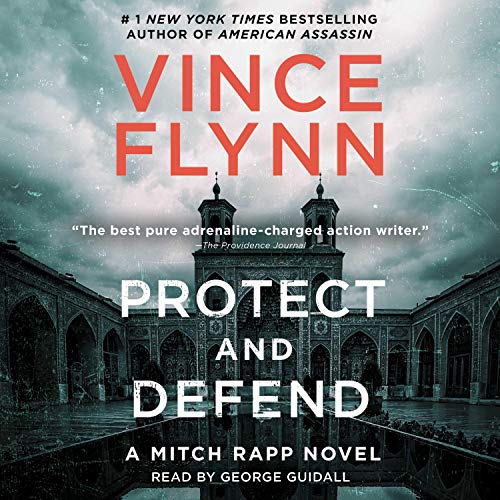 With Iran seeking retribution, Rapp comes up with his plan to counteract their actions. The plan involves CIA director Irene Kennedy meeting with Azad Ashani, her Iranian counterpart.
However, Rapp isn't the only one with mastermind plans. Iran's President has recruited Imad Mukhtar to leave a trail of death and destruction in his path. Now, it is upon Rapp to stop this menace once and for all.
This book is filled with politics, torture, and betrayal. The plot slowly unfolds believably. The writing doesn't seem rushed and it seems like a realistic novel. The events appear to be realistic enough. These characteristics make the story more suspenseful and we are kept on the edge of our seats as the hero tries to navigate through this world of twists and turns.
Full Audiobook