The Apostle is the eighth chapter in The Scot Harvath Series. It is a genre fiction novel which is written by Brad Thor. The author has a good name when it comes to writing engaging thrillers and other fictional novels. A very good example of his work can be found in
The Lions of Lucerne
. Similarly, you will have great fun with his
Rising Tiger
novel as well.
The audio narration of The Apostle novel is done by Armand Schultz. It was extremely hard to match with the caliber of George Guidall who performed in the first five novels of the series. However, Armand did a spectacular job and the listeners made no complaint about the replacement of the narrator at all.
Just like anyone else, every politician does have their secret as well. When the daughter of a politically connected figure got abducted abroad then the new president of the USA would agree to anything for having a solid rescue plan. This was needed by him to keep his dark secret hidden from the world.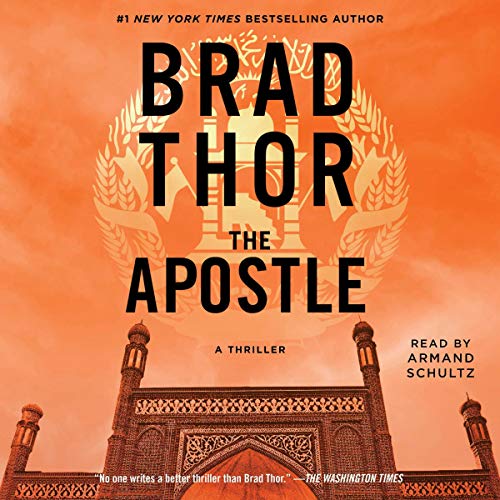 There was a completely new administration with a new approach to deal with the enemies of the USA. This was something that left Scott Harvath, counterterrorism operative with no job at all. But when Julia, an American doctor was abducted in Afghanistan then the conditions associated with her ransom left the president with only one choice. In that daunting task, the USA government would deny any sort of information to be provided to anyone. Therefore, Scott had to infiltrate the prison of Kabul, Afghanistan secretly. He had to free Mustafa Khan, the mastermind of al Qaeda which the kidnappers wanted as ransom.
The Apostle is a super exciting novel from a super awesome series. The pacing might have been a little slow as compared with a few of the other novels of the series, but still, it will make a tremendous read.
Full Audiobook