The Skull Throne is the 4th book of The Demon Cycle, a fantasy and horror fiction novel penned by Peter V. Brett. The first three novels from the bestselling author set a bar for heroic fantasy. The premise of humans winnowed to the edge of extinction by night-stalking demons and the survivors who fight back has intrigued the audience for a long time. Now, the 4th installment is raising the stakes even higher as the action takes a new shocking direction.
Peter is best known for his Demon Cycle series. It has sold more than a million copies in 24 languages across the world. If you haven't discovered this series, start with The Warded Man. You should also check out Unfettered.
Pete Bradbury is the narrator of this book. His voice is smooth and he is believable as the character he performs. He is a reliable narrator that doesn't let the audience down at all.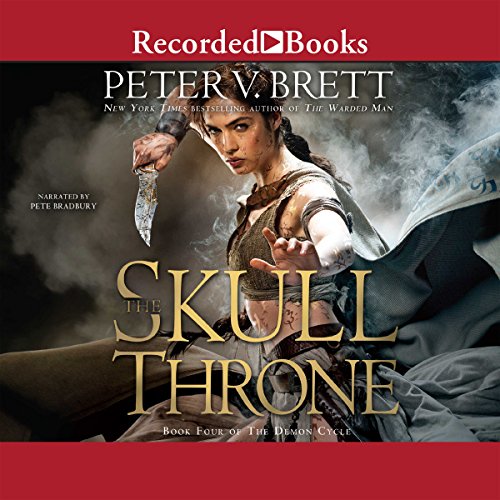 The Skull Throne of Krasia is a seat of honor and powerful magic. From the throne, Ahmann Jadir was supposed to conquer the world and bring the isolated people under one unified banner. However, Arlen Bales stood in his way and challenged him to a duel. For his honor, Jadir couldn't refuse, and they both plunged to their death.
The world was left without a savior at the worst time possible. A struggle ensued that threatened to tear the Free Cities of Thesa apart.
As good as this book is, it is filled with a certain amount of filler to stretch the story longer needlessly. It seemed like the author couldn't come up with interesting sub-plots in this one, and the interesting plot points couldn't be revealed until the next book.
Full Audiobook