Trailblazer is a book by Marc Benioff and it is co-authored by Monica Langley. Marc is the founder and co-Chief Executive Officer of Salesforce. In this book, you will find him sharing a highly inspiring vision of the successful companies of the future. Another prominent book from Marc Benioff is Behind the Cloud.
The audio narration of this book is done by Ray Porter. The narrator was quite close to delivering the content in Marc Benioff's style and you will enjoy it a lot.
The book address the great question about the secret behind business growth and innovation. It also talks in-depth about the purpose-driven career in a world which is fast becoming complicated with every passing day. As per Marc, the answer to this is in embracing a culture in which your business values infuse all that you do.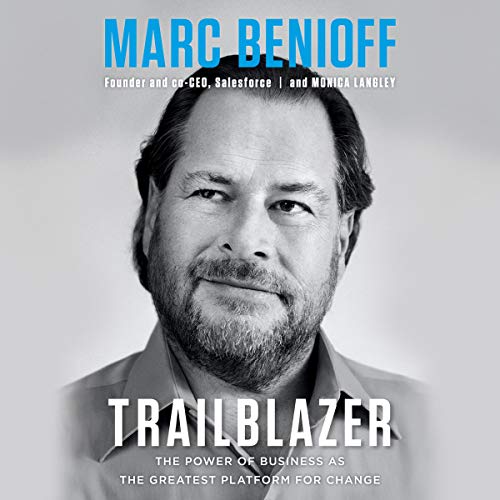 Marc Benioff in Trailblazer provides listeners with a unique behind the scene look at the inner workings of one of the most acknowledged companies in the world. He argued that how some of the core values of Salesforce such as customer success, trust, equality, and innovation provided them with the greatest competitive advantage. The author further argued that values are the bedrock of any robust company culture that would inspire all of its employees. This is something applicable at all levels and the need is to contribute with the best possible work of their entire careers. Moreover, Marc also shared some key best practices which anyone could adopt for cultivating healthy company culture.
Trailblazer is a great writer of a business success story. It will be an inspiration for all the entrepreneurs who could convert their business dreams into something big.
Full Audiobook